Facebook Power Editor is the precise way to control and manage Facebook ads – The Facebook power editor is the only solution. It will let you control your ads campaigns in more effective manner. Assume that you are running your own online shopping site and the main reason to use the Facebook advertisement feature is to increase number of sales and make relationship with customers for long term support. You can create new campaigns with the Facebook Power Editor and manage them very efficiently.
It is very simple to use Facebook Power Editor for personal as well as business use to edit and reform ads on Facebook. You can also perform lots of other cool stuffs through Facebook Power Editor to manage ads campaigns. If you still don't know Facebook Power Editor is quoted as It is simply called as manager of Facebook ad campaigns at a standard scale.
 (https://www.facebook.com/ads/manage/powereditor/)
For the sake of better business, you may need to promote your product info to your users and customers like the  product price, release date etc…
At that time, you may need to advertise through Facebook – The Facebook Power Editor will lead you to manage your multiple ads at a time.
It is simply easy to create, edit, management and optimization of the campaigns, advertisement and you can even optimize page articles. The best and awesome feature is you can control it for large number of different ad accounts and pages.
ALREADY HAVE A FACEBOOK PAGE? REACH 1000 LIKES (AND MORE) 
Why to Use Facebook Power Editor?
Very simple answer because we seek for profit not loss. So Facebook Power Editor will help you to gain more profit in terms attracting your customers and better sales as well as customer relationships and responses.
Let's assume that you are managing website of your digital marketing company and goal has been defined to attract 20 visitors per month and convert them into long term customers.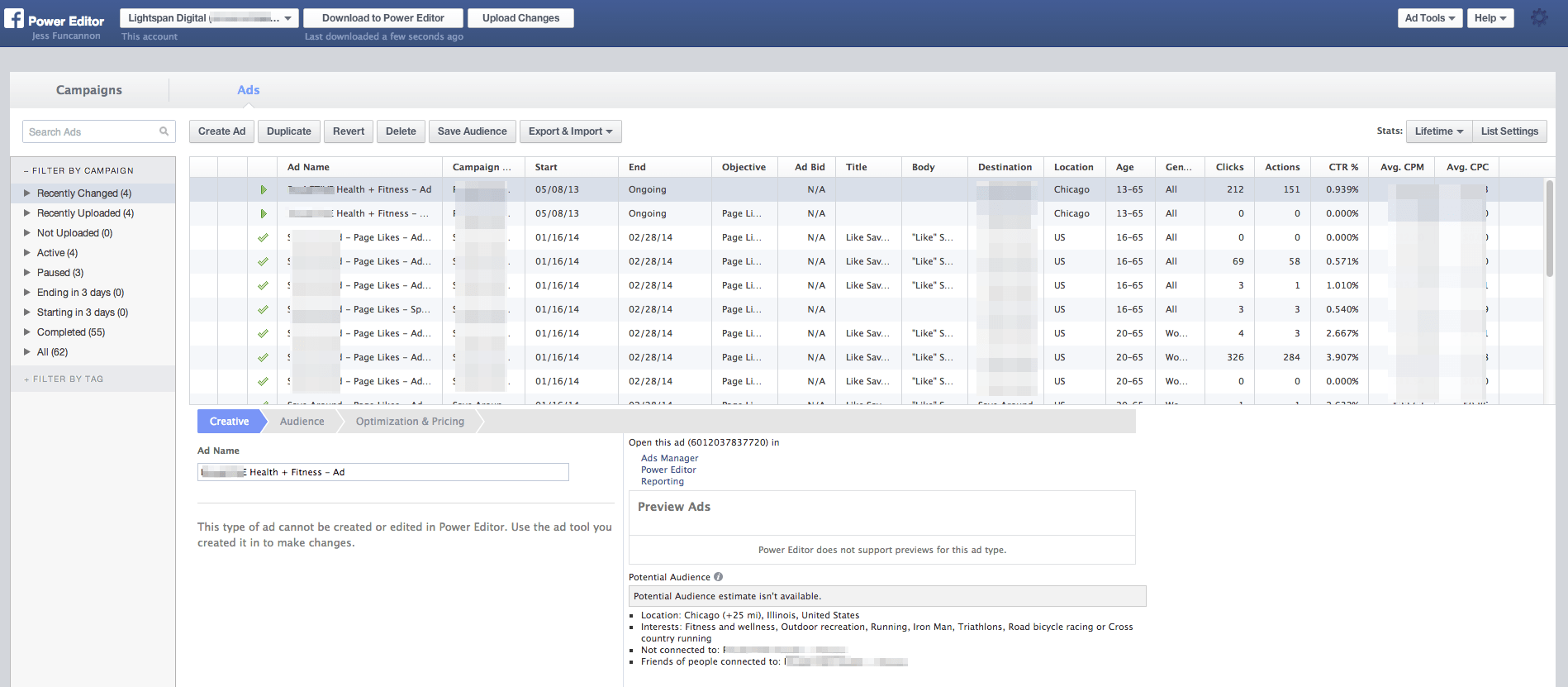 Goal is defined but you don't know about to manage Facebook ads and its importance. If you don't know about its management then you will lose money, profit as well as customers
So for better optimization purpose you must have to use Facebook Power Editor will help you to manage your ads:   
It's very easy to create and manage all the created campaigns at a time.

It will save your lots of time by managing multiple ads at a time.

Help you to manage you're all the audiences.
Ads on Autonomous Time Zone
It's the only way to improve your Ads by running on the basis of autonomous time zone. It's one of the important factor to take care of time, you have to assume that your audience will use Facebook at certain time and you have to flow your ad over the globe as well as on the basis of local time of the country. Focusing on time will help you to improve your performance.
[note: please add image of time schedule & country specification]  
Controlled Placement
Just think about latest trend, how people use Facebook and other social medias. Because without controlling ad placement on Facebook. That will cause you lose of huge money. Controlling of Ad will be much beneficial for advertiser.
You can choose ad for mobile devices and you can also choose that show your ad to mobile devices when audiences are connected to WiFi or other services.
There are lots of other options also, show ads only on iOS devices, Android devices, some specified devices or all available devices.
Improved Optimization
You can keep track of your all created ads and optimize them according to the requirement. All the statistics will provide idea what to do next? You can keep track of clicks, post engagement, daily unique reach as well as impressions. Do test your ads according to daily unique visitors and post clicks as well as post engagement and that will help you to reach at the top.
Bulk Uploading Feature
That's your choice to use different ads and if you are running multiple ads you can import and download excel spreadsheets of your ads.

How to Use Facebook Power Editor?
As we have already mentioned that Facebook Power Editor is the advertising tool which is designed for larger advertisers to manage their all the ads at a time. Facebook Power Editor is compatible for Google Chrome and you need to install Google chrome on your computer for better environment.
(https://www.google.com/chrome/).
This tool will help to manage bulk ad campaigns to manage all of those you have to choose your account and create your first ad campaign, after that you will see your data analysis to make everything ready.
(https://www.facebook.com/business/a/online-sales/power-editor)
After creating ad campaign, you need to choose your objectives. There are lots of objectives available that you can define for your ad campaign:
You can boost your posts

Promote your pages

Send peoples to your website.

Increase conversation on your website.

Get installs of your apps.

Increase engagements on your app.

Raise attendance at your event.

Get people to claim your offer.

Get video views.

Collect leads for your business.
These above mentioned points will be your objectives of using Facebook Power Editor. If you are willing to get high traffic on your posts then you need to choose your objective boost your posts.
Choose boost your posts and at the right side of your screen you will find the input box to enter URL and go for continue option. It's not mandatory to enter URL you can even engage your page.
In the post engagement section, you need select the post that you are going to engage with your visitors. Finally give the campaign name as well and go for continue. After this you need to set your audiences, budget & schedule.
It's one of the important factor while creating an ad campaign. For this you need to perform some real time analysis. Like which country will be better for advertisement, cost analysis, language analysis.
THE ULTIMATE FACEBOOK AD LIBRARY – LEARN MORE
Same way you can choose your other objectives and implement them through Facebook Power Editor. Ad set will provide you all the information about your location, visitors & languages. It will also provide you the basic rough estimated data that certain point of visitor will come to your ad.
Now finally you need to consider about your ad campaign budget and its schedule. Budget is the one of the essential factor for using power editor tool. Without allocating budget it's impossible to achieve all above objectives. It will also let you know that estimated people will come to your page with that budget and continue and create your ad.
Wrapping it up
Facebook Power Editor manages all the ads that you have created but you need to observe all the collected data through social medias and make them perfect to gain profit.
Your all objective to gain profit not to lose. So better analysis of all the information can help you to advertise better on social medias as well as Facebook. We choose Facebook because it is one of the best platform to advertise and it also has billions of visitors per day. So it can fulfill our needs of customers.
Ready to take your Facebook Ads to the Next Level? Download Our FREE Facebook Ads Checklist – developed to help you optimize (…and maximize) your Facebook Ads: Get It Here
Comments
comments