Creating the Perfect Facebook Ad
Facebook is worldwide, one of the most popular social networking sites. Facebook gets millions of active users every day. Knowing this; it's important to understand that Facebook Ads can be a very valuable asset to us as business owners and entrepreneurs. Creating Facebook Ads that have the potential to reach billions is obviously very attractive. But we're going to be as realistic as possible here. 
So we must say before we go any further – this is a walk through of what the typical business owner or entrepreneur just getting started using Facebook Ads can use to help grow their business by gaining targeted traffic and increasing brand awareness.
If you're seeking to spend $10,000+ on a Facebook Ad this probably wouldn't be the best place for you to learn how to maximize your potential in that way (but you can learn how over at the BrandBlast University)
Facebook has massive community support and likely other features (that you haven't heard of, yet) that can dramatically help you grow your business.  As a marketer, you must have to focus on driving customers to your business. Without any customers, you won't have any business, services, or products.
To make your business and services alive you just need to attract customers and impress them with your work. 
If we talk about past few years back, there is minor support for good marketing and good interaction with customers. Nowadays we have great technology and we can utilize it for our benefits.  
Nowadays we are focusing on the latest promotional methods to accomplish our organizational as well as business objectives. Yes, they need to be accomplished to survive in a business world so we are focusing on creating of perfect Ads on Facebook.
Why Should You Create Facebook Ads?
According to the daily basis statistics of Facebook, it is one of the most prominent and valuable places for marketing, because it has larger community support and users.
Creating Ads on Facebook can help you to direct targeted users, visitors or even customers to your business as well as your online services. Nowadays most of the online services and business companies are focusing on Facebook Advertising rather than other methods. If we talk more about other ads services, they are expensive and take lots of time to communicate and drive the customer to your business.
So, one of the perfect ways to lead your business to the higher level is advertising on Facebook. Just invest some money on Facebook and that will help you get huge customer support as well as targeted audience. Because when it comes down to it; Facebook is a VERY Pay-To-Play platform for businesses and pages. (That's why they took away our organic reach…)
We need targeted audience for better business and to generate profit as well. Targeted audiences are known as the ideal customers.
i.e Your business located in the United States and that is valuable for the customers of the United States and You are creating ads for some other countries. That can cause a loss of your business. So always try to focus on generating targeted audience.
Creating Optimized Facebook Ads
It's not easy to create optimized ads on Facebook. Because it requires some deep research before you'll be creating groundbreaking ads on Facebook. Without analyzing your product and your targeted customers that will be the waste of your money as well as time.
Creating a successful ad on Facebook means that you are generating and getting targeted visitors or customers to your business and services. So it's most important to focus on creating high-powered, optimized Facebook Ads.
Perfect Ads means an ad that flows every information about your object. Just analyze that what kind of Facebook Ad going to help you to accomplish that particular goal.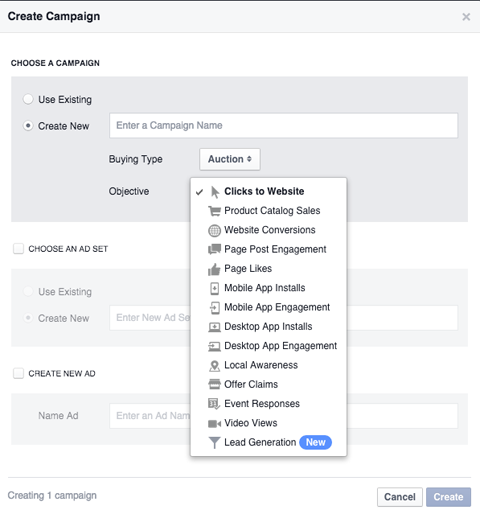 To create perfect, optimized Ads on Facebook; you have to focus on some specific points so that they will lead you to beneficial situation.
#1 – Right Column Ads
As the name suggests; an ad shown  in the right column of Facebook. They are eye-catching and normally, people interact with them. Facebook announced right column Ads a few years back because they found right column as a better place to show ads and share information with users. (for some reason we tend to look from left to right – everywhere…)
#2 – News Feed Ads
News feed ads get huge impressions because they come in contact directly with a user on their newsfeed. A very organic and natural ad placement – more often than not; the user actually forgets (or fails to notice/check) if the post they just liked was an ad or a status from one of their friends.
News feed ads are more visible to users rather than right column ads because most of the people focus on their posts and notifications rather than clicking on ads. Newsfeed ads can also help you to generate huge leads to your business and if you optimize enough while creating them so you can have an engaging ad that people actually enjoy seeing.
#3 – Create Page on Facebook (Business)
We are not talking about just a Facebook page, we are talking about creating a business page and make that page brand to share all the information through that page.
Even you can promote your business page with your customers as well as readers. After all, a page named appropriately to the product or service you're advertising looks great!
 Another essential thing is to share all the company information so that users can trust your company as well. We have an entire execution plan dedicated to helping you create the most effective Facebook Pages for your business Get It Here
#4 – Use Text & Images on Ads
It depends on you or your creative marketing manager to create amazing graphics and text images to impress your audience; because you don't know exactly what your audience is looking for so just try to focus on both text elements as well as images elements.
You can use text elements as short or long informative status or even you can use text on images to flow the message or information. Images can flow information in very short time instead of Text.
Now, finally create your Facebook campaigns and use both the elements combined to get more response from your audience. Images and text can flow all the information very shortly and interactively.
Another important thing while preparing for Image ads you just need to focus on their resolution and their quality. Choose a suitable picture for your Facebook Ads.
#5 – Start your Facebook Ads
Now after completion of your preparation you can go to power editor and start your campaign and mission to promote your business. While creating Facebook Ads, you need to focus on your criteria and targeted audience. 
Now finally go for creating Ad and choose your plans of payment and define the number of days that you are going to show your ads to your targeted audiences. Or; you could run a split test and create a similar ad (perhaps with a simple text or image variation) and test your audience that way! 
Wrapping it up
Creating the perfect Ad on Facebook is a little bit hard for normal people because they don't even focus on research and their targeted audience. So, first of all, we advise you to do deep research and do focus on all the above-mentioned points.
Then try to focus on targeted audiences to generate huge profit and gain success. 
Want More Facebook Ads Hacks? Download Our FREE Facebook Ads Checklist – designed to help you create higher performing, better looking Facebook Ads
Download our '4 Tricks for Higher Performing Facebook Ads' Checklist Today & Optimize Your Facebook Ads to Generate Targeted Traffic, Higher Conversions and More!
Comments
comments